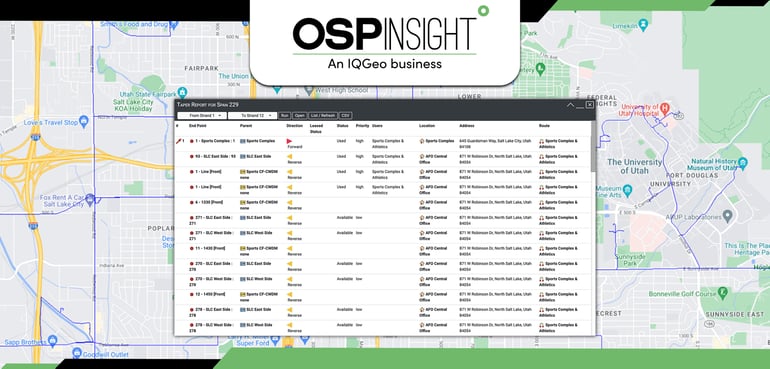 One of the most widely used reports in fiber network management is the Taper Report which provides a detailed view of the utilization of individual fibers within a specific cable. This report is valuable for many reasons and essential to successful network management and growth as it supports several different operational functions.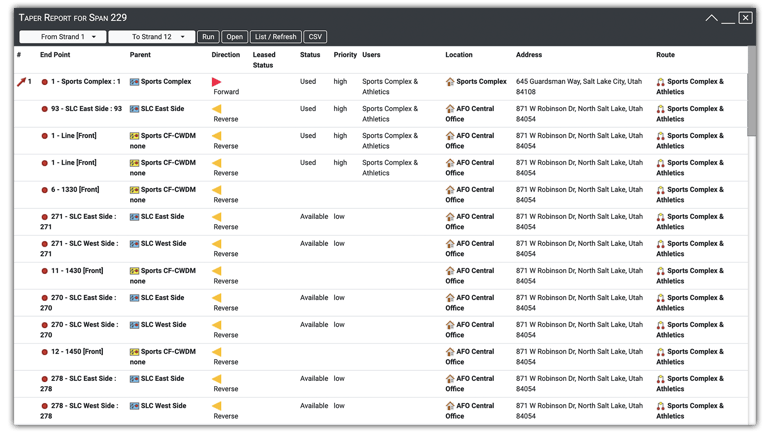 There are many fields that can be pulled with Taper Reports depending on the end goal, but we'll highlight just a few examples of how this specific information can be useful.

Taper reports can be used by business development personnel to understand whether or not they have the capacity within a cable to support new clients or leads. The Taper Report helps sales teams know whether or not additional cable needs to be installed or if existing unlit strands can be used.
Network engineers can use Taper Reports to understand which clients may be affected by faults or breaks in lit fiber strands, allowing them to disseminate information appropriately. With the priority designations listed in the report, engineers can address network faults in order of importance and also move clients over to unlit strands, either permanently or temporarily, until the broken strands are repaired.
Similarly to how span summary reports are used, a Taper Report is valuable to upper-level managers and executives as it provides a real-time snapshot of utilization by cable within a network. This helps guide strategic decision-making which is incredibly important in the current digital age where fiber optic technology demand is high. The Taper Report allows users to dig deeper into specific cable spans and draw out insights that truly inform decision-making.


---
Learn how OSPInsight can help you today!
Thousands of users have trusted OSPInsight software for over 25 years. Schedule a product demonstration to learn from one of our Solutions Engineers how OSPInsight can help your organization take your fiber network to the next level.