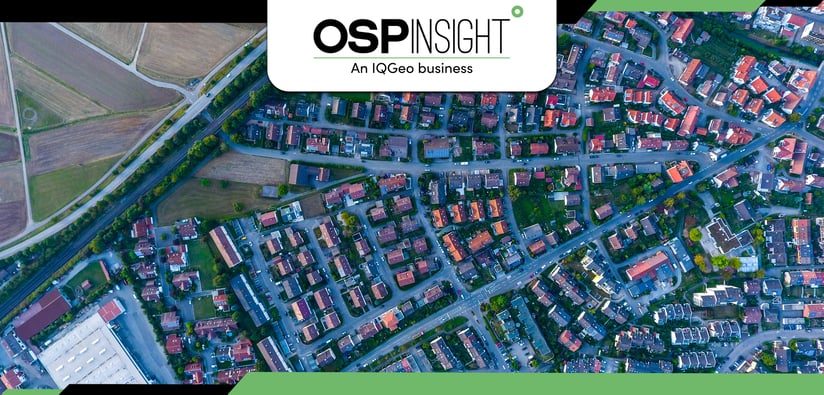 There are many options when it comes to choosing a GIS platform for your business.
You have powerful, comprehensive solutions from industry heavyweights, such as ESRI and MapInfo. These are used primarily by large enterprises with complex mapping needs. On the lighter side, platforms like GoogleEarth Pro have democratized GIS access and made it easier for smaller organizations to perform geospatial analyses.
As a fiber network operator, it is useful to know what GIS solutions exist so that you can carefully pick the right one for your business. In this article, we highlight some of today's most widely used platforms to get you started in the right direction in your search.


The heavyweight GIS platforms
One of the longest-standing GIS applications comes from ESRI, a pioneer in the mapping software space. The company was founded in 1969 as the spatial analytics field was gaining momentum alongside advances in computational geography.
ESRI offers a suite of GIS products under the ArcGIS name. ArcGIS Pro is a dynamic desktop solution for advanced geography-based analytics and data visualizations. ArcGIS Online is the company's web-based solution that allows teams to create and share interactive maps across their organizations. ESRI also has ArcGIS apps for developers who want to build unique mapping solutions.
In the GIS world, ESRI is a must-know company. Even if the organization's applications are beyond what you might need, understanding what ESRI offers helps benchmark other options in the marketplace.
MapInfo from Pitney Bowes is another robust desktop solution with an easy-to-use interface. The platform initially launched in 1986 and has since gone through many iterations that have led to the well-regarded version of the software that we have today.
GIS teams can create thematic maps and integrate geographic data from a variety of sources. MapInfo allows clients to develop nuanced visualizations and easily customize maps. Pitney Bowes offers a free trial of MapInfo for those who would like to test the feature set before purchasing a license.


Popular lightweight GIS options
Maptitude is an agile GIS platform that comes with digital mapping and geospatial essentials. The product is sold by Caliper Corporation, a leader in the GIS and transportation software field that has been around since 1983.
With Maptitude, users can still create custom visualizations and produce insightful reports without some of the advanced functionality found in premium options. The software comes with up-to-date background layers that teams can use with industry-specific data to glean valuable insights and produce helpful reports.
Maptitude does not support some higher-end features, such as LiDAR and remote sensing. However, these tools are often far beyond what many organizations need for their applications.
GoogleEarth Pro is a free resource (previously $399) that was born out of an acquisition completed in 2004. Google purchased Keyhole Inc, which specialized in the development of geospatial data visualization applications.
Users can download GoogleEarth Pro to their desktops and access a variety of data layers that sit on high-resolution images of the Earth's surface. While the platform does not come with advanced GIS capabilities, it is easy to use for less complicated needs, such as measuring the distance between two points or calculating the surface areas of polygons drawn on layers.
GoogleEarth Pro is a great starting point for organizations that are just beginning to explore the GIS world.


Another option: Open source platforms
Outside of the traditional licensing model for GIS applications, there are also open source products, which are built and supported by many contributors.
Currently, the biggest open source application is QGIS, a free GIS solution with desktop, server, and web-based products. The application was developed by the Open Source Geospatial Foundation, a nonprofit organization with a mission to empower others around the world with digital mapping capabilities. QGIS accepts support from independent developers and is run primarily by volunteers.
QGIS is one of the fastest-growing GIS options as a result of its no-cost, high-power nature. Overall, QGIS comes with 400 plugins that analysts can use to support their digital mapping needs. To help users navigate the platform, the organization has a helpful guide that explains how to produce high-quality maps and perform spatial analyses.


Integrate any GIS solution with OSPInsight
GIS mapping capabilities are essential in the modern fiber network management landscape. With so many platforms out there today, it is important to learn what each has to offer in terms of accomplishing your particular goals.
Beyond the solutions highlighted in this article, there are many others that may suit your organization. Fortunately, with OSPInsight, you can seamlessly integrate any GIS solution with your fiber network data!
Our cloud-based fiber network management platform is GIS agnostic, meaning we can support any GIS application no matter how robust or lean. Whichever direction you go on the GIS front, know that OSPInsight has the capabilities to support your efforts.
#HappySplicing