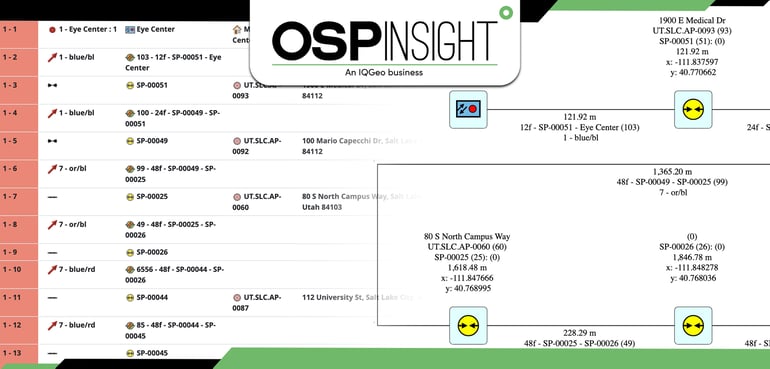 In order to manage a fiber optic network effectively, you must have a comprehensive view of connectivity across all network elements.
With OSPInsight, network managers are able to easily maintain and troubleshoot connectivity issues through an integrated suite of software-based solutions. Our tools help users understand how data flows through termination panels, cable spans, and splice points, three critical junctures in any fiber network.
Fiber managers who use the OSPInsight platform to its fullest potential are fully equipped to support network connectivity and keep their clients online over time.
Termination Panels
Understanding how data flows in and out of termination panels is essential when it comes to supporting network connectivity.
Using the Route Detail and Route Schematic tools, OSPInsight users can see key characteristics about existing cable routes, including their endpoints, panel assignments, splice points, and end users. We provide both spreadsheet and graphical views of cable connectivity, enabling fiber network managers to easily understand how light travels throughout the network.
This is essential for both troubleshooting and planning as users can evaluate connectivity in real time. Clients are able to interact with network elements directly and see where they are geographically located with our mapping interface. Route data can also be exported and shared with those in the field who can diagnose signal and connectivity problems that may arise.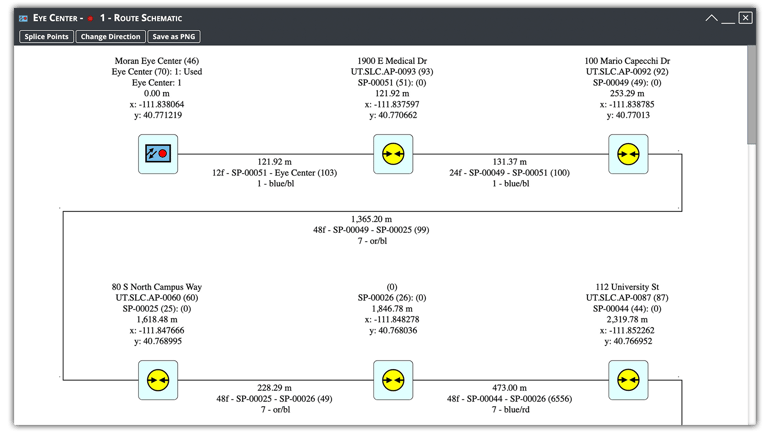 Cable Spans
In addition to understanding connectivity at termination panels, network managers also need a complete view of all existing cable spans. Using tools such as OSPInsight's Taper Report, users can see detail about every individual fiber within a cable, including ending ports, the direction of data flow, and priority level.
With Taper Reports, OSPInsight clients can also assess how end users are affected by cable breaks, enabling supervisors to quickly troubleshoot connectivity issues across the network. This is especially important when it comes to fulfilling customer service level agreements. Understanding cable span connectivity is also crucial for growth-related planning as Taper Reports provide information related to fiber utilization.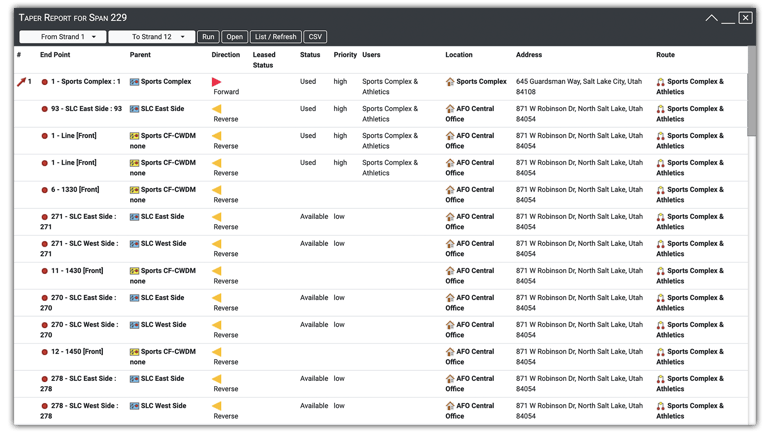 Splicing
OSPInsight also helps fiber network managers maintain a track record of cable splices, a feat that becomes more and more challenging as networks grow. The Splice Pro tool provides a clean visual representation of cable connectivity at any given location.
In our graphical tool, users can identify which fibers are fused together, design new connections, and see existing capacity. With real-time intel on how data is exchanged in the network, field technicians can efficiently divert light for new and existing clients, as well as test how potential splices would impact connectivity across cables.


Staying Connected With OSPInsight
Keeping clients connected, troubleshooting issues, and making strategically sound, growth-related decisions is challenging without the right set of network management tools. With OSPInsight, clients have access to features that support connectivity across termination panels, cable spans, and splice points.
Understanding what is happening in each of these areas will help you maintain your network successfully and provide the highest level of service for your clients
Interested in learning more about how OSPInsight can help you manage your network?
Request a free demo here.