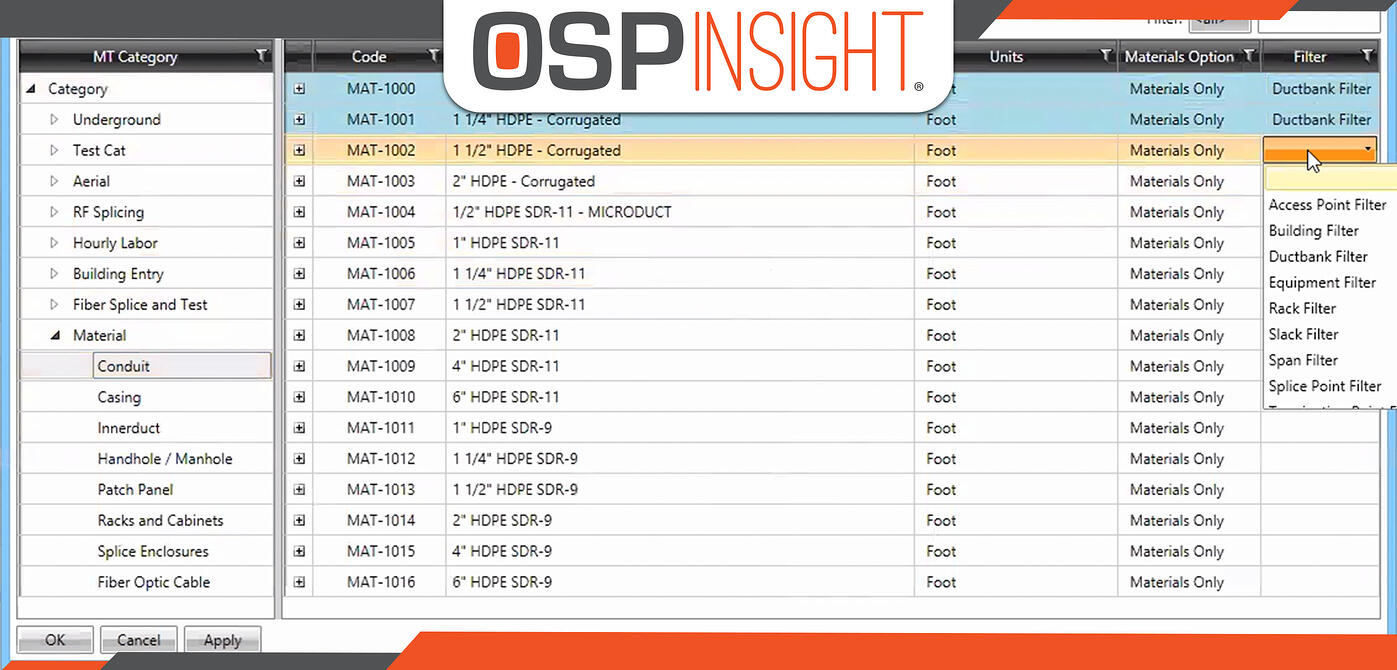 With the release of OSPInsight Edit 8.5, we've launched a powerful set of work order management tools that will help clients more effectively plan and design their fiber optic networks.
Users can now build task lists, estimate costs, and organize materials related to potential future developments, all within our software-based platform. In this article, we provide a brief overview of how we now support work order management through a single consolidated experience.
How Does OSPInsight Support Work Order Management?
Previously, clients had to use a variety of external resources to scope out potential network development projects and estimate costs. Now, OSPInsight users can plan and design their networks with greater precision using several new work order management tools, and it all starts with the Master Task List.
With the Master Task List, network managers can add relevant activities and materials to build a comprehensive list of all things needed to complete a fiber optic network build.
In the screenshot below, we see how an OSPInsight user could use the Master Task List Editor to organize all of the activities and materials needed for a new development. The editor includes columns for measurement units and task codes, in addition to a menu of categories to help clients quickly search for relevant activities.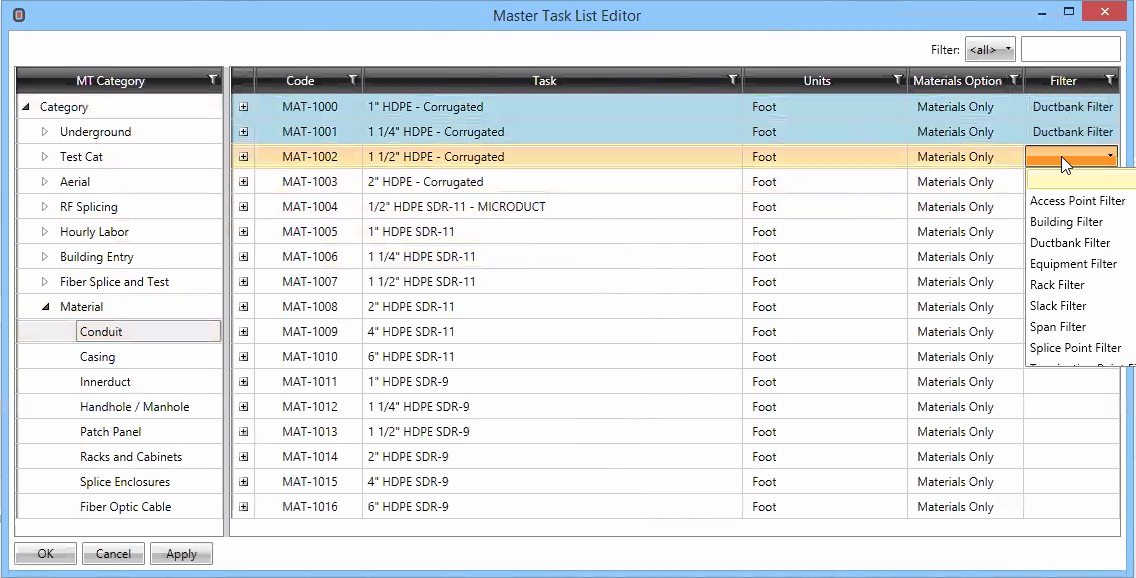 Next, comes the Price List. In order to determine the total cost for a project, each of the activities and materials in the Master Task List need to have a price associated with them. OSPInsight allows for multiple price lists in order to see pricing from various contractors or vendors. Moreover, the pricing for a given activity can be given to allow for differences between central business district (CBD), suburban, and rural builds.



How Can OSPInsight Clients Use These Tools For Network Planning & Development?
One of the most exciting aspects of the new work order management toolset is that OSPInsight users can now more accurately project the costs of their projects on a task-by-task or item-by-item basis.
In the following screenshot, we see that digging a 24'' deep trench 116 feet would cost $5 per foot, or $580 total. Prices are also calculated for placing duct into the trench and removing and replacing asphalt at the digging site.

All of these work order management tools also enable users to export their lists and share information with external stakeholders who can help validate estimations and push projects forward.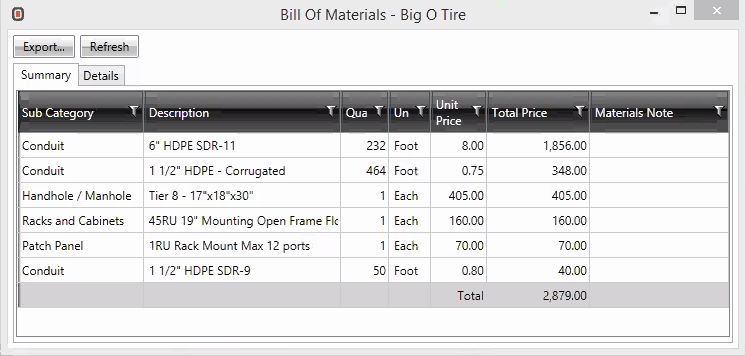 What makes this so valuable to OSPInsight users is that each object that is drawn to create a design can be tied directly to the activities or materials that are required to do the actual work. Thus, as the design is being drawn on the map, the Bill of Materials and Labor Task List are being populated, therefore saving hours of design time. Moreover, with the click of a button, callouts for materials and / or labor can be added to the drawing to make it easy to provide this information to the field crews.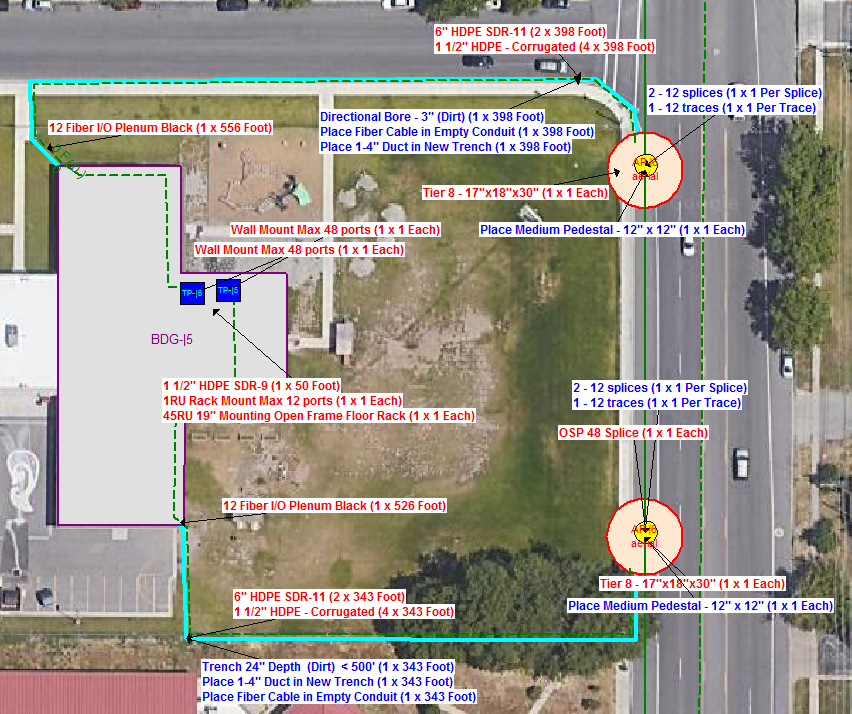 OSPInsight Work Order Management: Empowering Our Clients
With this new set of work order management tools, our intention is to further empower clients to plan and design fiber networks in the most effective and efficient way possible. Network developers need to be able to understand the time, money, and energy required to implement potential projects in a straightforward and clear manner. This will become increasingly important as networks continue to expand rapidly across the globe.
For more information on how OSPInsight can support work order management for your network, schedule a free demo of our platform here.