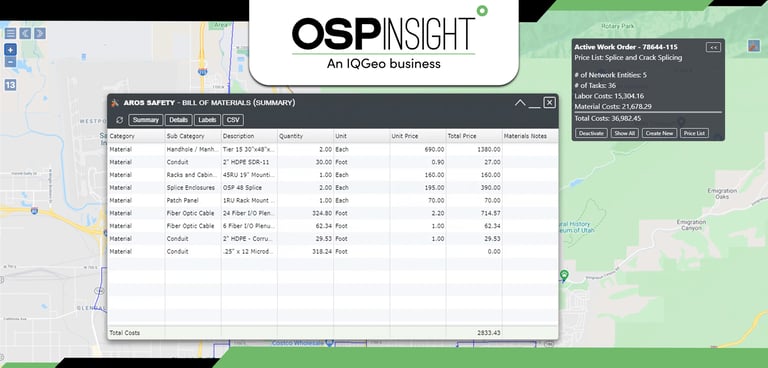 At IQGeo, we understand how important it is for fiber network designers using OSPInsight to quickly plan new builds. With the demand for fiber connections and network expansion only increasing, designers are busier than ever when it comes to planning the most efficient way to deliver services to new subscribers.

One of the more cumbersome aspects of network planning is estimating how much new builds will cost, both from a labor and materials standpoint. That's why we're so excited about our new Bill of Materials Add-On. OSPInsight users can now accurately estimate network material costs in real-time as they plan their networks, making the sales quoting process faster and easier, enabling you to be more competitive. Our clients have been helping drive the development of this functionality and it's now here! As an OSPInsight Add-on, it's simple to extend your subscription to access these highly useful new features.


Using the Bill of Materials Add-On
The Bill of Materials Add-On provides a new set of features for quick cost estimation during the fiber network design process. We've added a small information window that includes helpful metrics about the work order you are actively constructing. The window shows high-level totals for the number of network entities you've added, the number of tasks required, total estimated labor costs, total estimated material costs, and total costs. This is all provided in real-time as design records are updated.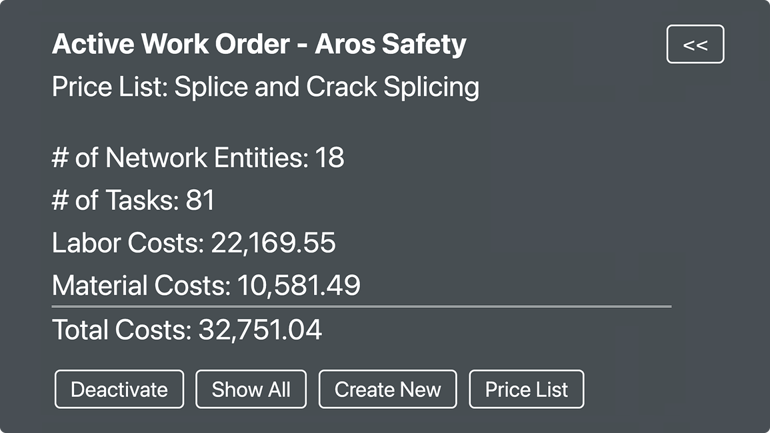 You can also dig into more detail about your designs and access a Bill of Materials summary table that is automatically populated with the objects needed for your installation such as conduits, racks, cabinets, etc. The table includes quantities and cost breakdowns for every component added in your active map view. You can also click down further for additional information and see how your materials are associated with the objects you've created. This provides you with a complete running update of all the materials that comprise your current design, which is an invaluable insight for cost control and design validation.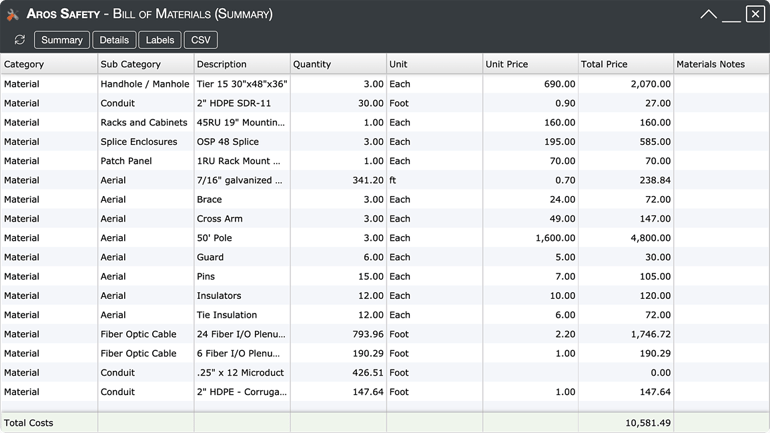 Additionally, the Bill of Materials Add-On allows you to generate a detailed Labor Task List, which provides the estimated labor costs for the design. Both the Bill of Materials and Labor Task List tables can be exported as CSV files so you can share these estimates with other applications or team members.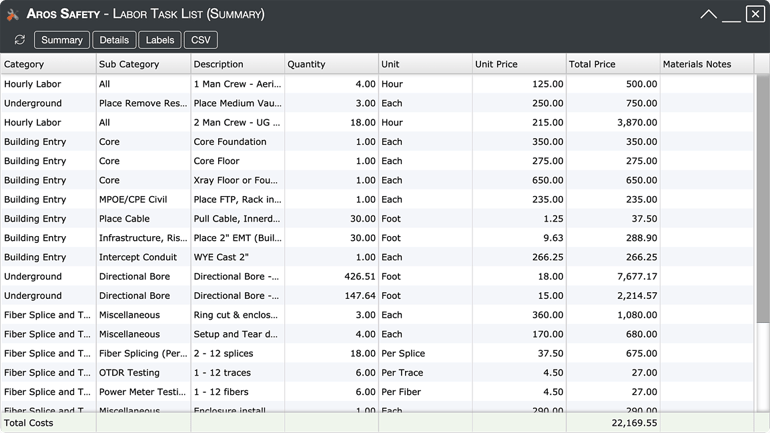 The Bill of Materials Add-On includes cost estimates for all of your network elements: splice points, termination points, plan points, and more as you add them to your network.


Cost Estimates Based on your Numbers
The cost information for all the material and labor costs come from material price lists and labor cost you provide so they accurately reflect costs for your business. Through a simple configuration process you can add your pricing and easily make updates as costs change. To get you up and running quickly, you can use the default pricing we include in the Add-on, or change it to reflect your business. You are in complete control. In fact, you can create and manage multiple price lists, with pricing information segregated for CBD, suburban, rural areas as well as general pricing. Multiple price lists allow you to run a cost profile using price sheets from different suppliers.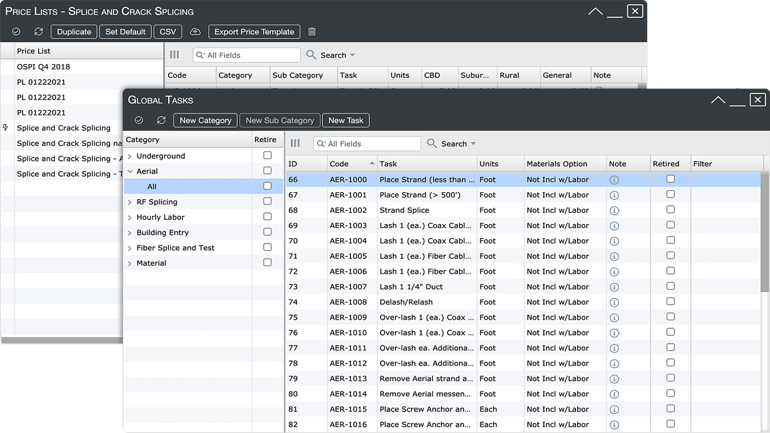 Rather than manually calculate how much your new builds will cost, OSPInsight does all of the hard work for you in the background. For example, when you draw a cable on the map, all of the costs associated with the material and labor to install the cable will be calculated for you based on the length of the cable. And, if you change the length of the cable, the calculations are refreshed to reflect the change. It could not be easier. You can now focus entirely on the details of your installation, trusting that OSPInsight will generate an accurate design estimate, while simultaneously optimizing the design and quoting process, significantly speeding up your work processes and giving your business a competitive edge.


How do I get access?
The Bill of Materials Add-On is available for OSPInsight Web. If you are a current OSPInsight customer, you can get pricing details from your Customer Success Manager. If you are still in the process of evaluating OSPInsight, feel free to reach out to your Solutions Engineer to schedule a demo on the platform with the Bill of Materials Add-On included as part of your OSPInsight Web setup.

If you are interested in seeing a demonstration of the OSPInsight Web, or any of the available Add-ons, please contact our sales team at sales@ospinsight.com or by scheduling a product demonstration.