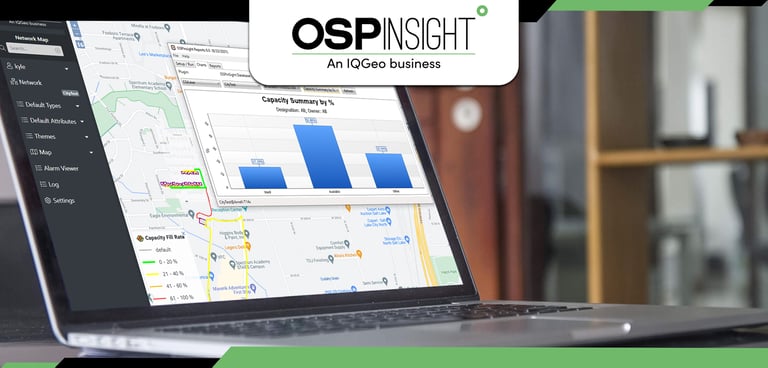 At IQGeo, we continue to expand the capabilities of our OSPInsight software platform to help you improve the efficiency and productivity of your network operations. I'm excited to introduce you to the latest platform enhancement that we call the "Reports Add-On".
The Reports Add-On integrates our legacy Desktop Reports application into the OSPInsight Web software. We've retooled large portions of Desktop Reports to remove third-party dependencies (i.e. MapInfo, Microsoft Access) and improved our long-standing and industry-proven reporting of fiber assets.
These new Desktop Reports will now ship as a plugin application to be used in conjunction with OSPInsight Web. Desktop application users now have the ability to create and schedule new reports, serving as an admin over your reporting functionality. Once finalized, reports will be available for OSPInsight Web users to view and export.
The enhanced functionality of the Reports Add-On uses a separate database from your network database, allowing you to document and share network changes in time series reports. Out of the box, you will have access to several key standard reports, including:

Cable Span Analysis (CSA) / Span Summary Report

Route Endpoint Report

Route Length Report

Net Statistics (Net Stats) Report

Cable Span Analysis (CSA) / Span Summary Report
The CSA report is designed to examine fiber capacity throughout an entire network. It reports on the status of every fiber in the network to aid in assessing fiber capacity utilization and where additional capacity may be necessary. Utilizing the WMS feature in OSPInsight Web you can view the CSA result in a thematic map. This level of analysis is very difficult to achieve using traditional manual assessment processes, so this report is extremely valuable in improving the productivity of your existing network and in planning future network expansion.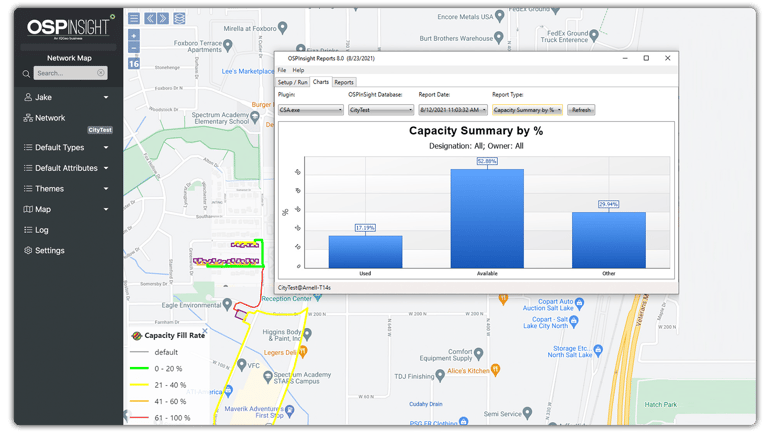 Route Endpoint Report
The Route Endpoints report provides a concise summary of all Saved Routes (circuits) throughout an entire network. This includes route statuses, end points, and total lengths to help better understand and manage your optical circuits. This targeted summary provides an up-to-date view of circuit status and supports proactive maintenance initiatives.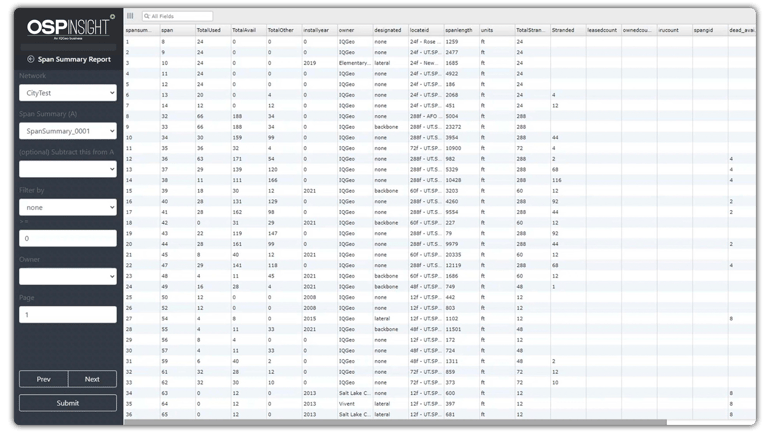 Route Length Report
The Route Lengths report summarizes the lengths of cable sheath, route, and glass within different defined network regions. The cable length information in this report is invaluable for construction departments, accounting, tax, and investor relations team, providing a comprehensive summary of network cable assets.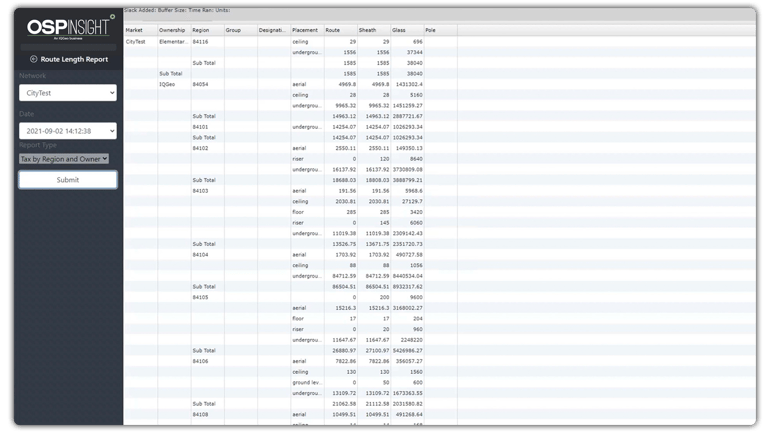 Network Statistics (Net Stats) Report
The Net Stats report summarizes the number of records within each table in a network database. This is used to better understand the size of the database and how the database is changing. This information is important to monitor as it can be used to optimize database configurations and ensure the best possible system performance over time.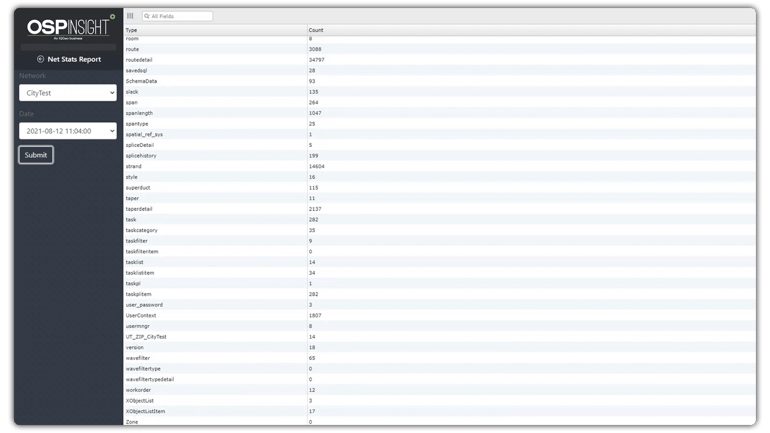 How do I get my hands on the Reports Add-On?
The new Reports Add-On provides four high-value reports that summarize the status of critical network assets. These reports give you and your team the information and insights you need to more effectively design, plan and maintain your network.
Cable Span Analysis
Route End points
Route Lengths
Network Statistics
The Reports Add-On is available today and can be added to your current deployment of OSPInsight Web. Please contact your Customer Success Manager to see a demonstration and receive a quote to add the Reports Add-On to your platform.