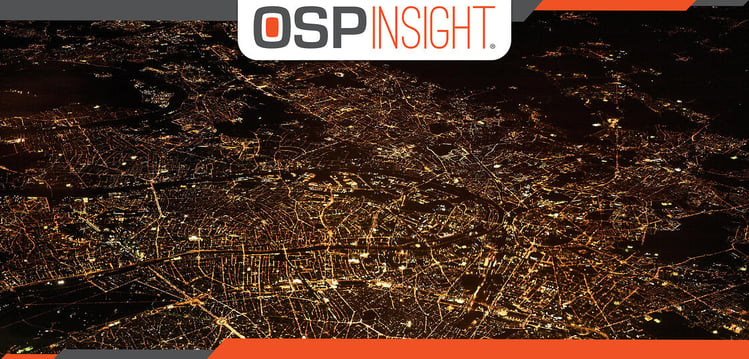 Fiber network management and GIS solutions go hand-in-hand.
When it comes to creating fiber maps, GIS platforms are crucial for several reasons. Both network developers and operators benefit tremendously from being able to build high-quality visual representations of their fiber networks.
GIS platforms come with valuable data layers that sit on top of fiber maps and enhance their meaning for various stakeholders. These layers can be turned on and off so that users can quickly toggle between different views.
There are three specific reasons why GIS fiber design is so vital for any fiber operator:
Fiber maps reveal how all components work together
Fiber maps show spatial distribution and growth opportunities
Fiber maps help operators identify network vulnerabilities
With fiber GIS software, you can deliver differentiated experiences for end users that will stand out in the marketplace.
The Importance of GIS for Fiber Network Management
Visualizing how everything fits together
Any fiber network operator knows how important it is to have accurate visual network representations. Fiber maps provide a much deeper level of understanding and clarity for network design and performance evaluation.
Because so much fiber mapping happens on web-based applications, network operators can easily update their fiber records and share this information with others. At any given time, leaders can see the current state of their networks and how all components in the field are related to one another.
A fiber map offers a comprehensive perspective of an entire network, which helps facilitate efficient design. Network components, such as cable routes and splice points, can be placed optimally when engineers know how everything fits together.
Studying spatial distribution and identifying opportunities
GIS-enabled fiber maps provide a clear sense of how networks are spatially distributed across markets. Network developers can easily see where they lack coverage, which may indicate future growth opportunities. They can plan and expand coverage into new areas with all of the components needed to build on the existing network.
Developers can also see where they have capacity within existing cable routes near potential clients. With this information, they can encourage sales teams to focus their efforts on businesses that the network could accommodate without any major capital investment.
Understanding network coverage across certain geographies also helps network managers better allocate resources. For example, an operator might want field technicians located closer to areas with dense cable concentrations to reduce troubleshooting response times. So much of fiber network management is tied to geographic data, which is why understanding spatial distribution is useful.
Responding to network issues in real time
Effective troubleshooting is an integral part of successful fiber network management.
With GIS tools, identifying connectivity issues is much more straightforward. Network operators can plug OTDR readings into their fiber maps and locate cable breaks in no time. Additionally, field technicians can study surrounding environments using digital fiber maps and plan minimally disruptive repairs before heading out onsite. Doing so saves significant time and reduces downtime for end users.
GIS fiber mapping can also point out broader network vulnerabilities to operators. It is much easier to recognize a lack of network redundancy when looking at a birds-eye view of the overall network. Operators can use this information to mitigate issues that could arise in the future.
Seamlessly Integrate Your GIS Platform With OSPInsight
OSPInsight is a flexible, cloud-based solution that can integrate seamlessly with any GIS application.
If you already have a preferred GIS solution, our team can help you create beautiful fiber maps with OSPInsight that represent every component of your network. For those who do not already use GIS, OSPInsight has open-source tools that provide a similar set of critical functionality.
GIS fiber management enables many OSPInsight reports and capabilities. For example, our Find Fault tool makes it incredibly easy to identify cable breaks and prioritize repairs across large networks. Using our Capacity Report, network developers can see where they have space within existing cable routes to support new clients. Our Route Lengths Report is helpful when preparing for tax season, as you can calculate fiber lengths by geographic segments and provide your accounting team with precise metrics.
To discover the full potential of fiber network management with GIS software, schedule a demo of platform today.
#HappySplicing