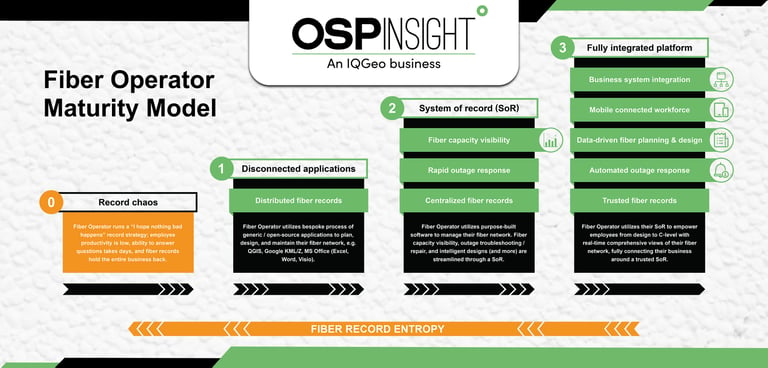 After over 25 years in the fiber network management world, we've learned a thing or two about how networks evolve over time and how the needs of operators change along the way.
Fiber operators typically start out documenting their records, fiber data, splices, etc., on paper maps or static spreadsheets. Some come right out of the gates using a geospatial tool, like Google Earth, to build visual representations of their networks. And others work with engineering firms that pass along "as-built" information in the form of pdf CAD drawings.
While these approaches are reasonable and practical for early-stage fiber operators, using disconnected point solutions inevitably leads to growing pains as fiber networks continue to scale. At OSPInsight, we refer to this first stage as Level 1 Maturity in our Fiber Operator Maturity Model. Operators have a functioning strategy, but the technology is not joined up.


The Shortcomings of Level 1: Disconnected Applications
In Level 1, field technicians can create visual representations of their networks, but they struggle to document information in an organized manner, which means it can be very difficult to share efficiently and effectively with other parts of the organization.

For instance, they may be able to draw a small circuit, show what side of the road it is on, and indicate which buildings the network supports. But they might not be able to document in one shared location which fibers are available in a given cable, communicate splicing records to the field, or record certain "tribal knowledge" about specific network assets.

Operators eventually reach a point where they realize they need a better solution as as-built information gets lost, and field crew efficiency erodes along with customer satisfaction. It's difficult to scale operations and align different departments - sales, marketing, operations, etc. - when there is no single source of truth that provides full visibility into the current state of the network.


Graduating to Level 2: System of Record (SoR)
At Level 2 of our maturity model, operators graduate from static spreadsheets and geospatial tools to a centralized System of Record (SoR) software that keeps everything in one place and enables office and field users to update records in real-time.

Getting to Level 2 is crucial for growing networks because fiber networks are always changing. It's business-critical to capture daily work as field technicians continually splice cables to onboard new customers and reroute service around damaged circuits. Fiber operators also have to record, monitor and fulfill strict SLA obligations for high-priority customers, such as hospitals, schools, and strategic corporations.

These operational realities form the three pillars of effective network management:
Fiber capacity visibility

Rapid outage response

Centralized fiber records
The key takeaway is that no matter how big or complex your network gets, you should always be able to manage your data effectively. And you can't do this well until you've reached Level 2 in the maturity model with an integrated SoR.


Achieving Your Full Potential in Level 3: Fully Integrated Platform
Operators in Level 3 have mobile-connected workforces that can input and update detailed field notes directly into a cloud-based SoR from anywhere in the world. As a result, feedback loops are much shorter between the field and the office, and no data escapes the operator's reach. People throughout the organization can trust that fiber records are up to date-and accurate at all times, which dramatically improves enterprise-wide collaboration and enables a true step-change in how network information is exploited across the company.

At Level 3, managers can implement data-driven fiber planning and design to maximize growth opportunities, as well as estimate how much it will cost to service new markets. Field technicians can also automate outage response efforts and set up real-time alarm monitoring. Sales and marketing can intelligently target new revenue opportunities and support can respond quickly with accurate network statuses. Sounds nice, right?

OSPInsight's mission is to help all our customers reap the compelling business benefits of a Level 3 maturity model status. Our fiber network management platform comes with all of the tools and reports needed to optimize every aspect of your operations. And even if you're still on Level 1, we can help you get to Level 2 in 60 days guaranteed. Then, Level 3 is within reach. No matter what happens, you can count on the fact that the IQGeo team will be there with our OSPInsight software to support you throughout this exciting journey.

Take OSPInsight for a free test drive to experience what it feels like to have full control and power over your fiber network.