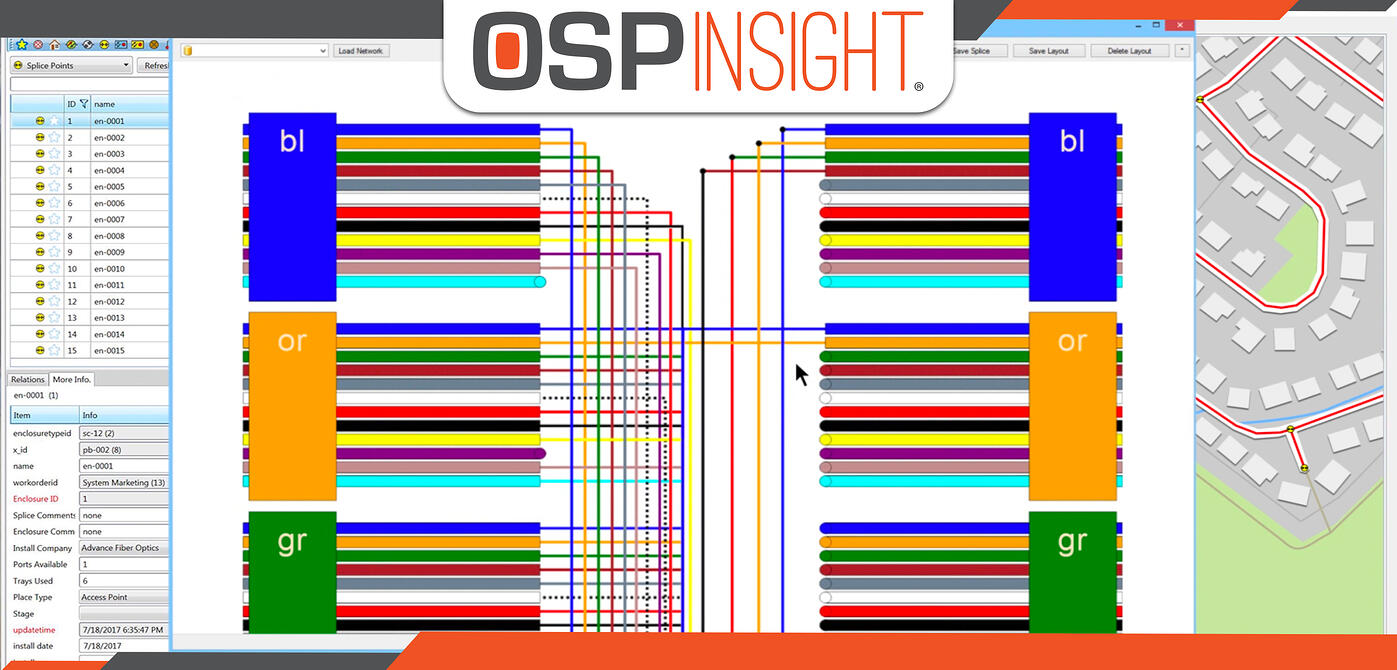 As fiber networks grow, maintaining a track record of cable splices becomes more and more challenging. Without an effective way to organize splicing information, network developers and field technicians are left in the dark when it comes to making changes or updates to existing cables.
Recently, OSPInsight updated its splicing support with the SpliceGUI visualization tool which helps network managers understand what is happening at cable splice points. Clients see significant value in being able to design and record splices with an easy-to-use graphical interface that integrates well with other OSPInsight tools and resources.
What Is The SpliceGUI Tool?
OSPInsight's SpliceGUI provides a visual representation of cable connectivity at a given location. The screenshot below provides an example of what a network manager might see when working with the tool.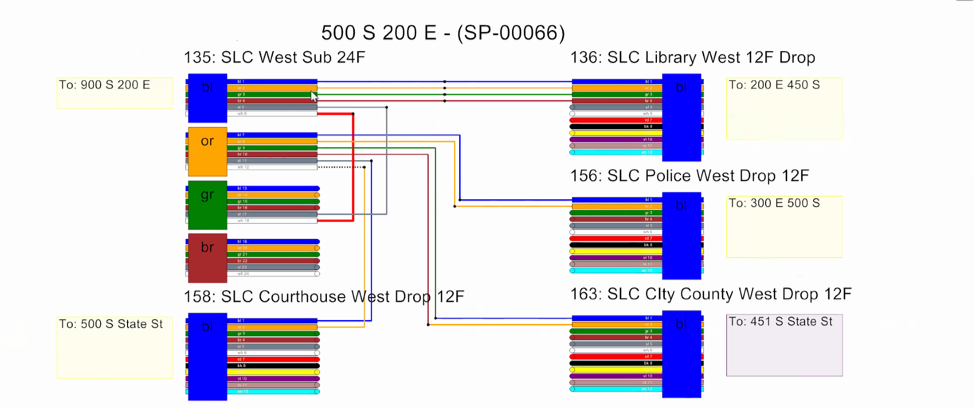 In this image, there are five unique cables coming together at this particular splice point. The larger rectangles represent the buffer tubes that organize individual fiber strands which are identified by different colors. Between some fibers are splice lines that help network managers see which fibers are currently fused together. To form a new connection, users simply have to click on an open fiber strand and drag to another open fiber strand in the interface.
Previously, OSPInsight clients were only able to use the Splice Key Editor (see below) to design or document cable splices. However, the information was organized like a spreadsheet rather than as a graphical summary. Now, with the SpliceGUI tool, network managers have a much clearer understanding what is happening within fiber cases that are spread throughout their networks.

How Is SpliceGUI Used To Support Fiber Network Management?
Managing and growing a fiber network effectively requires a thorough understanding of the splice points throughout the entire network. Without real-time intel on how backbone and lateral cables exchange data, field technicians can't efficiently divert light for new or existing clients.
Network managers can write notes into their SpliceGUI images and export them for field technicians to reference at the actual splice locations. SpliceGUI can be used in conjunction with the Taper Report to help network developers understand where they have capacity in their network, down to the individual fiber strands. Additionally, the SpliceGUI tool allows developers to test potential splices and see how they would impact the entire network in a simpler manner.
Managing Cable Splicing Has Never Been So Easy
Although OSPInsight's Splice Key Editor provides similar functionality, the SpliceGUI tool makes it much easier for clients to design splices, plan for new developments, and assess how any changes would impact the broader network.
Click here to request a free demo of OSPInsight's suite of fiber network management software solutions, including the SpliceGUI tool.